b. 1976, living in Stockholm. Studio at Slakthusateljeerna.
info snabela annahenriksson punkt se
EDUCATION
2015 – 2016
THE PHOTOGRAPHIC ARTIST´S BOOK
Royal Institute of Art, Stockholm

2008 – 2010
MASTER´S PROGRAM IN JOURNALISM
Department of Media Studies, Stockholm university
- Curriculum vitae: Journalist/Editor

2000 – 2005
MASTER´S PROGRAM IN FINE ARTS
(Degree of Master)
Umeå Academy of Fine Arts, Umeå university
2002 – 2003
School of Photography and Film, Gothenburg university
Gueststudent year 3
1999 – 2000
FOTOSKOLAN STHLM, Folkuniversitetet
1997 – 1998
GFU, Folkuniversitetet

SELECTED SOLOSHOWS
2018
"Jag ser dig härifrån", Gna projekts, Stockholm

"Jag tar vid här", Strindbergsmuseet, Stockholm
2015
"Bokporträtt (Portraits of Books)", Lilla K, Norrtälje
In collaboration with Norrtälje Konsthall
2014/2015
"Skyddsplastad (Plastic cover)", Stockholm South General Hospital
2013/2014
"Fläckig pärm (Stained cover)", Årsta public library, Stockholm
2009
"Glappet mellan kapitel 4 och 5 (The gap between chapter 4 and 5)", Soya konstrum, Stockholm
2007
"8 minutes workout", Galleri Jonas Kleerup, Stockholm
2006
Yeah / Play, Galleri 54, Gothenburg

SELECTED GROUPSHOWS
2018
ARTISTS´ BOOKS, Hangmen projects, Stockholm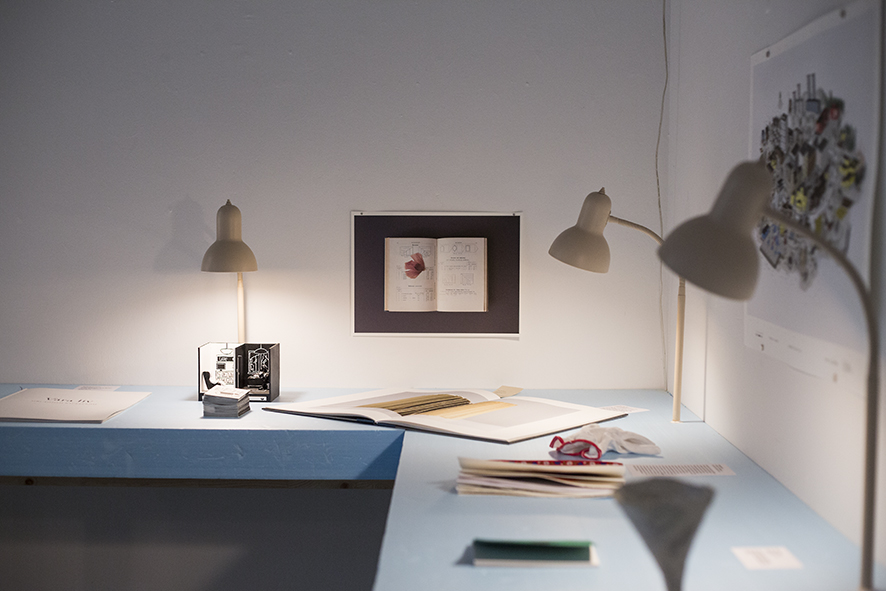 Exhibited my book "Portraits of books" at Hangmen projects

2017
Dispositions like this,
Gna project, Stockholm

2016
FotobokGBG – exhibition/photo bookfair,
Gothenburg
The Photographic Artist´s Book
Royal Institute of Art, Stockholm
Artist's as Independent Publishers
Weserburg Museum of Modern Art, Bremen, Tyskland
– artist´s book-show exhibited in Bremen, Wien, London, Bergen and Stockholm.
Bokkonst (The art of books)
Tierps konsthall
2015
Höstsalongen, Fotografiska, Stockholm
Nordisk salong, Dunkers kulturhus, Helsingborg
2014
Avspark, Konsthallen, Haninge kulturhus
2013
Open studios for the Friends of Moderna museets,
Slakthusateljeerna, Stockholm
Konstlada, Hållen, Hållnäs
Vårsalongen, Liljevalchs konsthall, Stockholm
2012
5 year, Soya Konstrum, Stockholm
2009
Videopiece "Olof på tå" exhibited during A SPECIAL EVENING JUST FOR YOU WITH...CARL-OLOF BERG. In collaboration with Moderna dansteatern at Allmänna Galleriet, Stockholm and at Galleri Verkligheten in Umeå.
Nano
Studio 44, Stockholm
2008
620 tum, Galleri Jonas Kleerup, Stockholm
2007
Before and after. Galleri Jonas Kleerup at Riche Lilla Baren Stockholm
2006
CRAC Animated film show at movie theater Sture, Stockholm
Konstmässan 2005 / Art fair 2005, Stockholm
representing Umeå Academy of Fine Art, Umeå university.
2004
Sköna Relationer, Xposeptember Skulpturens Hus, Stockholm
2003
Graduation show – Bachelor´s Program, Göteborgs konsthall, School of Photography and Film, Gothenburg university
TA PLATS! (Take place!)
Odenplan Stockholm. Curated by Camilla Larsson
2002
Vårsalongen 2002, Liljevalchs Konsthall Stockholm
GRANTS
2018 3 year studio grant, Stockholm stad
2016 Helge Ax:son Johnson grant
2014 3 year studio grant, Stockholm stad
2013 1 year Working grant, The Arts Grants Committee
2010 Helge Ax:son Johnson grant
2007 Helge Ax:son Johnson grant
2005 Eva och Hugo Bergmans grant. Fredrika Bremer grant, County council of Värmland grant
SELECTED PUBLICATIONS/CATALOGUES
TYDNINGEN, issue 19/20, 2016
Höstsalongen, Fotografiska, 2015
Blick, september issue 2015
Vårsalongen, Liljevalchs konsthall, 2013
PUBLISHED AS A WRITER IN MAGAZINES AS
Fotografisk Tidskrift
Verk tidskrift
Fotosidan Magasin
CAP&Design
Södermanlands Nyheter
REPRESENTED AT
Nordea Denmark association for art
Apotekets association for art
Private collectors in Sweden
COLLABORATING WITH
Young Art! - a plattform and a gallery for emerging artists
youngart.se